We're sorry you experienced an issue with your GoBe3!
First, please try cleaning the contacts of the charging socket. We recommend using surfactant dishwashing liquid or liquid soap.
Please follow the instructions below:
Dip a cotton swab into a small amount of liquid

Clean the electrodes, the optical sensor and the contacts of the charging socket (the liquid may start foaming, which is ok)

Please avoid letting the foam get on the display, as it is covered with an oleophobic coating, which can be damaged by surfactants.

Rinse off the foam under running water while still rubbing the contacts with a cotton swab
Rinse the contacts again under running water without using the cotton swab this time
Dry the band with a tissue and remove moisture from the charging contacts by using a dry cotton swab
Please avoid washing the charging cable contacts under running water, as they are not waterproof. To clean them, use a cotton swab dipped in alcohol.
Please keep in mind that it may be necessary to repeat the cleaning process several times (up to 3-4 times) even though the contacts may appear to be clean visually.

It is important to clean the contacts and the charging cable regularly, preferably 1-2 times a week and especially after physical activity to prevent the accumulation of residue.
Then, put GoBe3 back on charge, wait for 10 minutes and see if it has started charging.
If this doesn't help, please try to do a hard reset by taking the steps below:
1. First, please make sure your device is charged: plug it into its charger and let it charge for 30 minutes or more.
2. Without disconnecting GoBe from the charger, take a paper clip and press the button inside the small slot (it looks like a small hole) in the center part of the USB plug (please see the picture below). You should feel a brief "click" of the button, after which the device will restart showing you the "HELLO" message on screen. This indicates the device was reset successfully.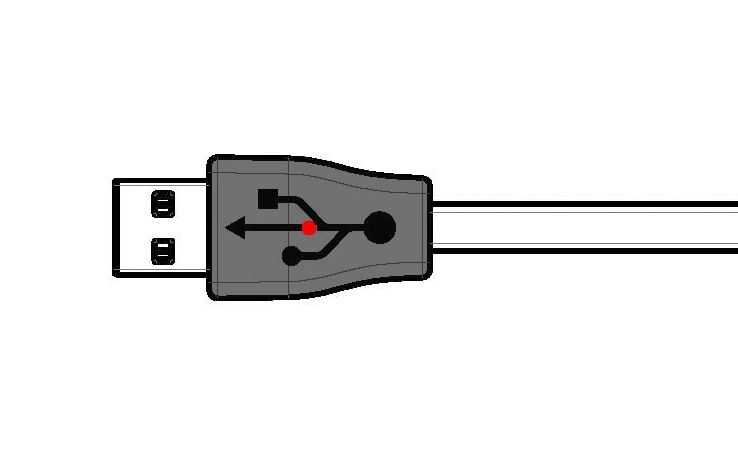 Please note, any data which has not been synced with the app, such as recent meals or steps, may be deleted during the hard reset, with no ability to recover it.
If even the hard reset does not help to revive the band, as the last step you can try leaving the device for 3-4 days and let it discharge completely. After that, put it on charge again and try syncing with the app.
If you have any questions, please email us at gobe@healbe.com We will be happy to help you!